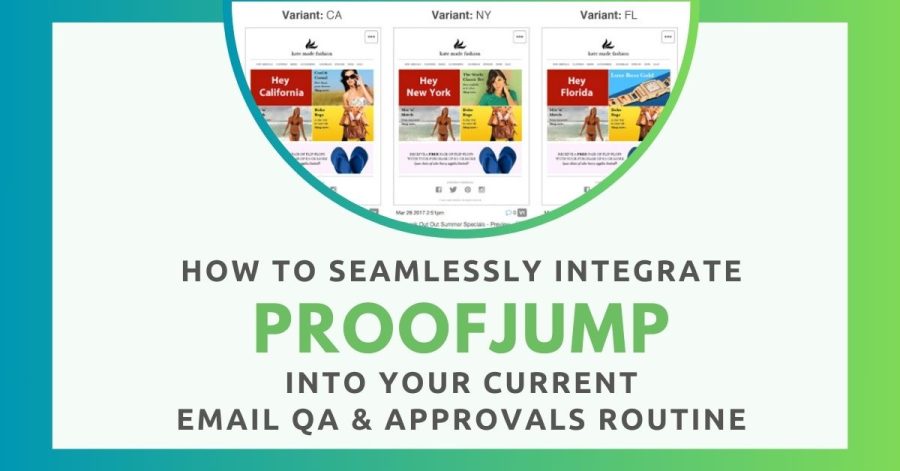 How to Seamlessly Integrate ProofJump into Your Current Email QA and Approvals Routine
One of the biggest obstacles to improving marketing and business processes is pushback from team members and stakeholders who don't want to have to learn how to use another tool – even if the tool will make their lives easier once they learn how to use it. ProofJump is different because it's so easy to use.
There is almost no learning curve with ProofJump. It's built to do one thing exceptionally well – help email marketers and email campaign reviewers streamline the entire review and approval process. You'll save time and frustration and reduce errors and delays because everything you need will be in one place without distractions or confusing extras you don't need.
How Email Marketing Campaign Managers Use ProofJump to Manage the Email Review Process
Once you log into your ProofJump account, you can create a new email campaign with corresponding proofs in just minutes. The software makes it easy to group multiple proofs together within a "campaign". All variants and versions – along with all edits, comments, and decisions – are recorded and stored in one place and in real-time. Everyone is always on the same page which significantly reduces confusion, double-work, and re-work.
You can create, delete, and manage campaigns from the Campaign Overview page within the ProofJump application.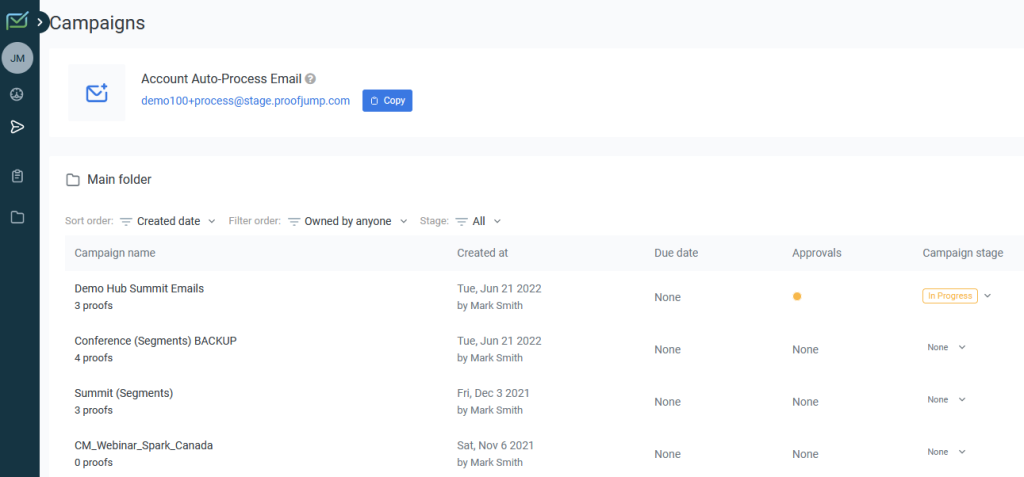 To add proofs to a campaign, just email a test message of your campaign to your ProofJump campaign-specific email address. The proofs will be added to the campaign in ProofJump for stakeholders to review.


If you prefer, you can add proofs to a campaign in ProofJump by uploading proof files from your desktop, pasting HTML of your proof into ProofJump, or capturing the URL of a web page that provides the HTML of your proof.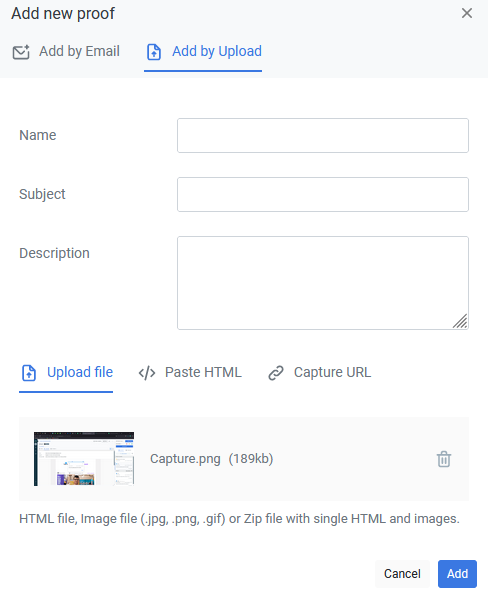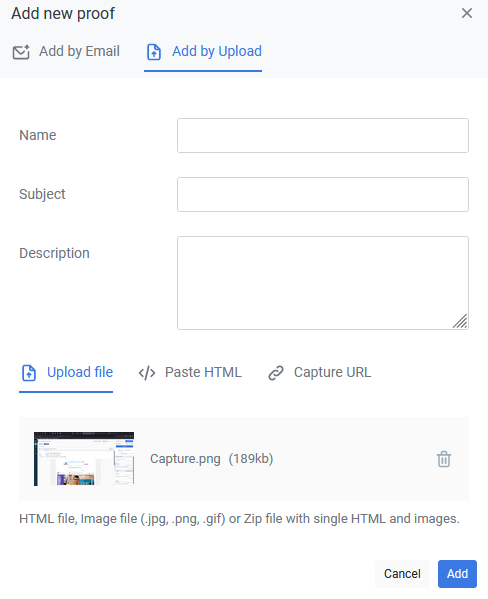 Once stakeholders start reviewing campaign proofs, you can track the progress of approvals at a glance from the list view of each campaign within ProofJump.


You can also add or delete proofs in a campaign at any time. To identify different versions of a campaign, select one proof as the Master and upload the variants. You can even select proofs to compare them side-by-side.
All comments and the full history of the campaign/proof review are displayed in the right-hand pane of the ProofJump app – no extra clicks or pages are necessary to view them. You can filter down to the individual proof level to review historical comments and activity, and when all approvals have been obtained, you can mark the proof as Complete to show stakeholders the review cycle for that proof is finished.
How Reviewing Stakeholders Use ProofJump to Proofread and Approval Email Campaign Proofs
Stakeholders don't have to learn a complex software to review and approve email campaign proofs when you use ProofJump. Instead, you simply share the entire campaign or individual proof links with them. They'll receive an email with the campaign or proof link. Once they click the link, they'll go directly to the campaign page where they can view all proofs in the campaign (or an individual proof if that's what you send them to review).
Stakeholders can review campaigns as registered or unregistered guests. The image below shows what the campaign page looks like for an unregistered guest reviewer.
To review a proof, stakeholders simply click on the proof in the campaign page (or navigate directly to the proof page if that's the link they received) where they can review functional email proofs with links, source code, metadata, subject line, preheader text, and all other elements. If you just want them to review an image proof of your campaign, you can do that too.
Stakeholders can review proofs in desktop and mobile views and with images blocked to approve the Alt-Text used for each image. To make things even easier, stakeholders can review different versions of a proof or mobile vs. desktop views side-by-side using the comparison view feature in ProofJump. The best part is all of these options are available within ProofJump without launching any additional tools or moving back and forth between browser windows.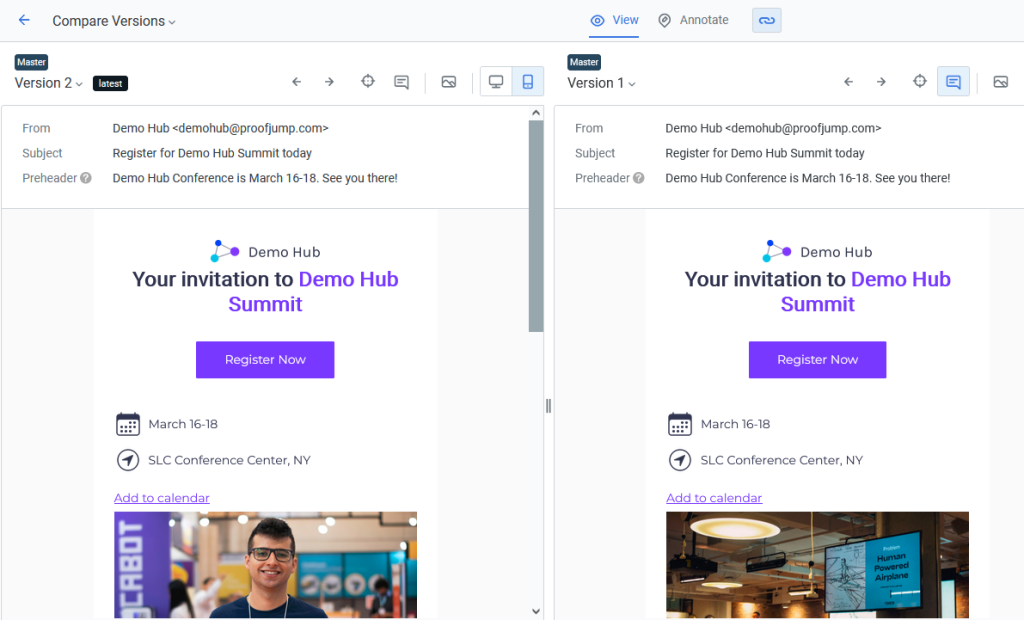 Reviewing Dynamic Content with ProofJump
There is no easier way for stakeholders to review multiple variants of email campaigns that use dynamic content and automated proof labels (APL) on a single page than ProofJump. All you have to do is send a single campaign link to stakeholders who will be able to review all campaign variants in one place within ProofJump.
There are two ways to do it: the ad hoc method or APL. With ad-hoc proofing, you share the campaign link from ProofJump with your stakeholders, so they can click on the link to view all variants, versions, comments, and so on in one place. The only problem is you'll have to revise each proof separately as new versions are updated.
APL solves that problem and makes proofing dynamic content so much easier for email marketers and reviewers! You tag your test emails in your email marketing application using one or more dynamic content identifiers to identify each variant. As an example, the image below shows three variants of a campaign based on state.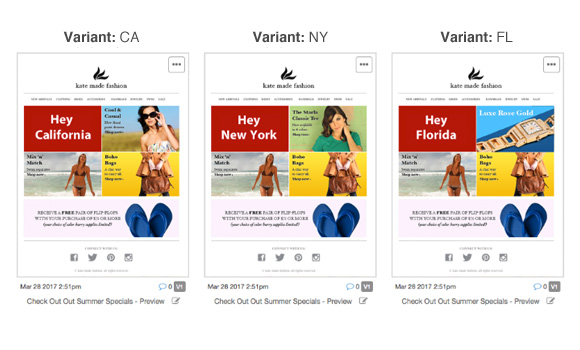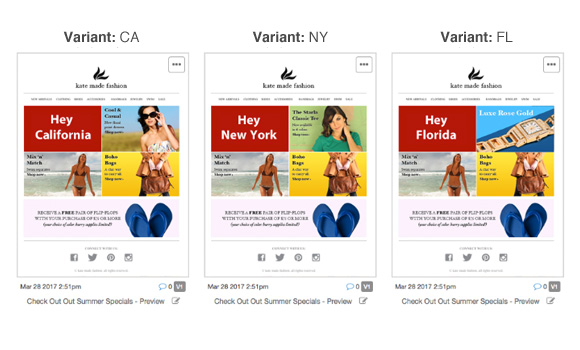 Here's another example. A pet store owner could send an email campaign with personalized offers targeted to three customer segments: dog owners, cat owners, and other pet owners. Let's assume that the pet store owner has a seed or test list in a Data Extension (Salesforce Marketing Cloud) like the table below. The concepts should be roughly the same for other ESPs, but the syntax may differ.

In the above table, the pet store owner could use the "email" or "pet_type" field as the unique identifier. Let's say they choose to use the "pet_type" field. They'll have options to insert the identifier into their test emails so ProofJump can automatically process and display the labels in the campaign overview – either in the subject or in the meta tag.
1. Subject
Add the identifier as a dynamic content value (i.e., AMP Script variable) in the test subject line with this format [v:]
[v:%% pet_type %%] This is a test subject
([v:dog] This is a test subject)
2. Meta tag
Place the following meta tag in the of your email.
<meta name = "cw_variant" content = %%pet_type%%">
Next, the pet store owner would send a test message with all of the variants from your ESP to the unique email address that is provided when they create a new campaign in ProofJump. Once ProofJump receives the message, the emails will be auto labelled with a variant identifier.
The last step is for the pet store owner to share the campaign link with their stakeholder reviewers. All reviewers will be able to proof and annotate all variants on one page as shown in the image below. It's so easy for them!


It doesn't take long for the campaign manager to set up auto-label proofing. When you send updates from your ESP, ProofJump will automatically create a new version of the proofs based on the identifier. In other words, you'll save time for you and all stakeholders, and you'll reduce confusion and problems.
Inviting Reviewers and Assigning Permissions for Seamless Proofing
Email campaign proofing using ProofJump is as easy as sharing a link with stakeholders, and inviting stakeholders to review campaigns is just as easy. All you need is their email address.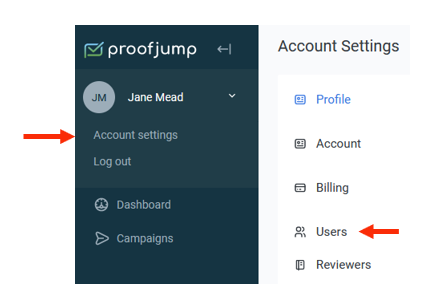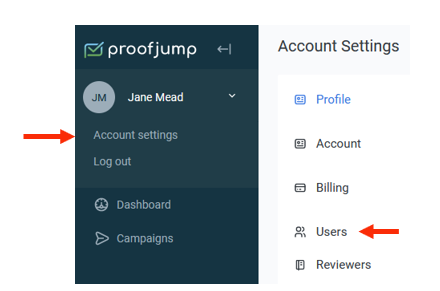 Stakeholders can be registered or unregistered guests. All unregistered guests do not have to have user accounts in ProofJump. Instead, they just need to be invited to review a proof in ProofJump via email invitation or a shared link. However, they will have to register as a guest with their name and email address when they click the campaign link so their comments and annotations can be attributed to them.
As the campaign manager, you can add a new user by inviting them to set up their own account with their email address.


Another way to invite users is by setting up accounts for them. You need their email address, first name, and last name, and you'll be required to select their role and assign a password to them as shown in the image below.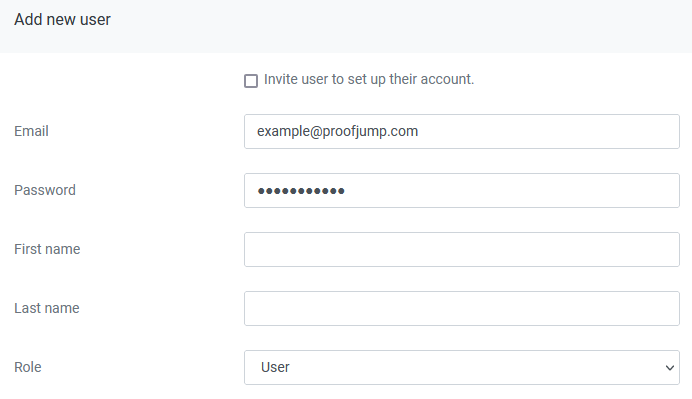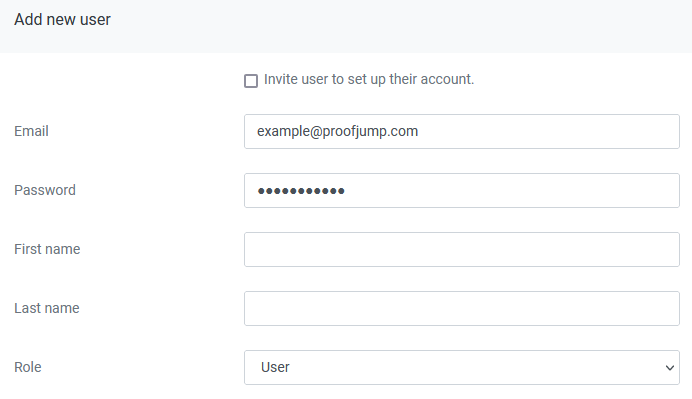 There are four roles in ProofJump with different permissions (unregistered guest, reviewer, user, and admin), so be sure to assign the right role to each stakeholder you invite.
Unregistered guests don't have ProofJump accounts. People in the reviewer role are registered guests who can view and review proofs they're invited to. The user role is for people who need to create, manage, view, and review proofs they're invited to by an admin, browse campaign folders, and create new campaigns and folders. An admin is a super user who can create, manage, and review all proofs, browse campaign folders, create campaign folders, and create and manage users.
Key Takeaways about How ProofJump Seamlessly Integrates into Your Current Email QA and Approvals Process
With ProofJump, you get a streamlined solution with a quick learning curve that gives you complete control of your email campaign proofing process. Stakeholders get an easy-to-use and highly intuitive tool that makes the historically confusing and stressful email marketing campaign review process run smoothly.
Ready to see ProofJump in action? Schedule a demo to learn exactly how it can easily transform your email review process for you and your stakeholders.