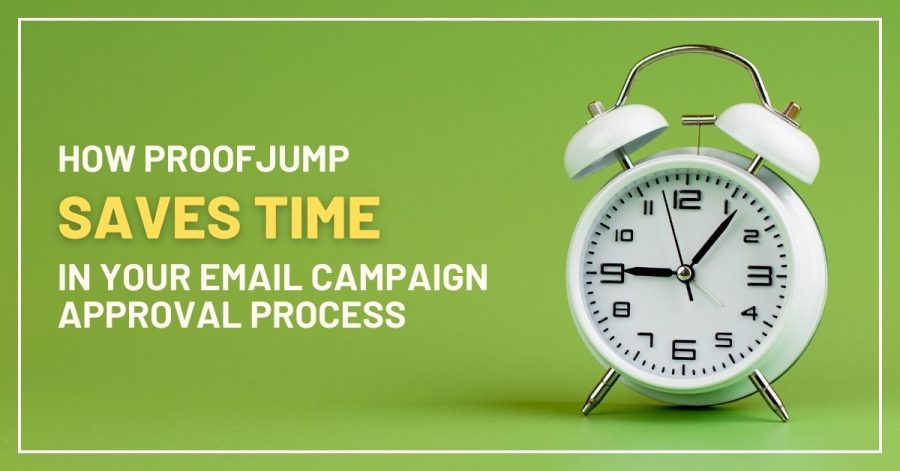 How ProofJump Saves Time in Your Email Campaign Approval Process
ProofJump was built specifically for email marketing campaign managers who need one place for all internal and external stakeholders to proofread, collaborate, communicate, and approve email marketing campaigns. As a result, ProofJump streamlines your email approval process and saves you and all reviewers a significant amount of time.
How much time do you waste trying to manage the inefficient process of sending campaigns for review to each stakeholder via email? How much time do reviewers waste looking for the latest version of a campaign? How much time do they waste reviewing the wrong version?
ProofJump brings all of the tools you and your stakeholders need to review, communicate, collaborate, and approve email marketing campaigns. When you use ProofJump, you'll reduce confusion, rework, duplicate work, bottlenecks, and mistakes – all of which cause your email campaign approval process to take a lot longer than it needs to.
How You and Reviewers Save Time Using ProofJump
When you have an email marketing campaign that is ready to be reviewed by stakeholders, you simply send a message from your email marketing platform to your ProofJump campaign-specific email address. That's it! The proofs are added to your campaign in ProofJump for stakeholders to review.

You can also add proofs to a campaign in ProofJump by uploading proof files from your desktop, pasting HTML of your proof into ProofJump, or capturing a URL of a web page that provides the HTML of your proof.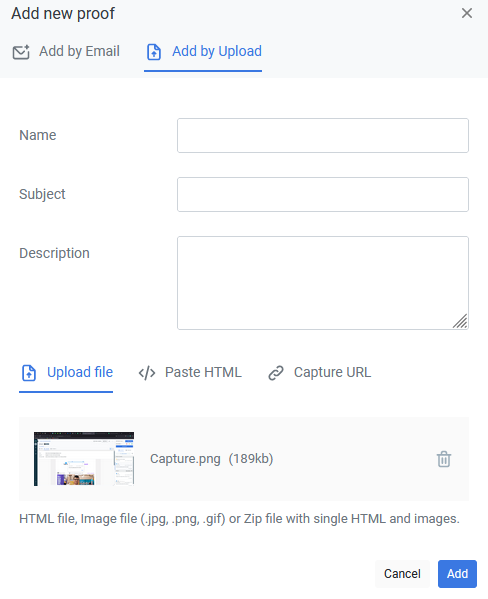 Once a proof is generated, you can share a link to the proof with all of your internal and external stakeholders. Each person clicks on the link to review the message in ProofJump where they can:
Review the design, images, and text content.
Test links in the message.
Review different versions of the message based on advanced segmentation and complex dynamic content to ensure the right people will get the correct offers and messages.
Add comments describing edits or asking questions.
Read the full comment stream and comment history for transparent communication with collaborators.
Add annotations within the email message so it's easy for designers, developers, and writers to follow the reviewer's instructions.
Communicate and collaborate with each other to discuss edits in real-time.
Make proof decisions by marking the campaign proof as requiring changes or as approved.
Everything happens in one place, so everyone knows what's happening at all times. As the campaign manager, you can track all approvals at a glance and review historical comments and comment activity within ProofJump. You and all reviewers will see a dramatic boost in efficiency and a decrease in wasted time with ProofJump!
How Reviewers Communicate and Collaborate Using ProofJump
Ask yourself these three questions:
Are your reviewers working in silos?
Are they reviewing email campaigns in their own email inboxes?
Are you going crazy trying to compile edits and hit deadlines?
If you answered yes to any of the above questions, then you have a communication and collaboration problem.
Don't worry – you're not alone! The most common reason the review and approval process breaks down is a lack of transparent communications and easy collaboration among reviewers.
Fortunately, ProofJump streamlines all communications by giving reviewers a centralized place for real-time, collaborative review, discussion, and decision-making.
Communicating and Collaborating with Comments and Annotations
Stakeholders can ask questions, provide input, and communicate with you and each other using the annotation feature in ProofJump. End-to-end collaboration is easy because every reviewer knows what all other stakeholders are doing at all times.
Stakeholders can click on the Annotation icon when reviewing a proof, and place a pin wherever they want to add a comment – directly on the proof. Next, an annotation text box opens where they type their comments, and finally, they click the Submit button.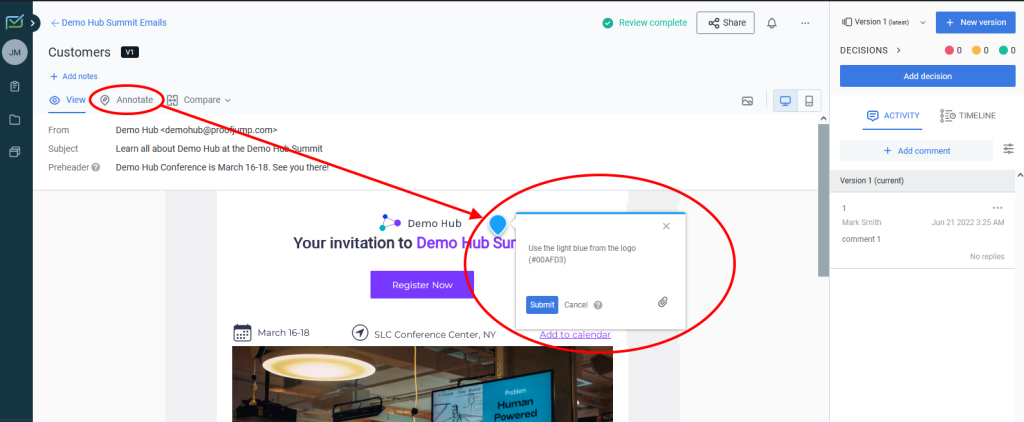 Once the annotation is submitted, you and all other stakeholders can see it within the proof. It also appears in the proof's comment stream. If another stakeholder is actively viewing the proof when an annotation is submitted, the annotation is immediately visible to them because annotations update in real-time. No miscommunication or delays!
All stakeholders who have their notification settings configured in ProofJump to receive updates will get an email notification when a new annotation is added to a proof, so they can read it and reply to it immediately. Notifications are another feature in ProofJump that keeps the review and approval process running smoothly so you save time. More details about notifications are included in the "Configuring Email Notifications" section later in this article.
Responding to annotations is extremely easy. Stakeholders just use the "Reply" option to type their responses. The reply is immediately visible to you and all stakeholders in the proof's comment stream. Reviewers can also include attachments with their annotations, which can be a big time-saver.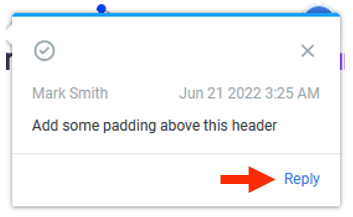 To ensure no stakeholders waste time or cause confusion by replying to comments that have already been completed, the campaign owner can mark comments and annotations as "done" by clicking on the checkmark at the bottom left of the comments.
Communicating and Collaborating Proof Decisions
The decision feature in ProofJump is used by reviewers to let other stakeholders know they're done with their review of a specific proof version. Email notifications are sent to all other stakeholders when a reviewer enters a decision (based on each person's notification settings).
There are three decision states:
Red – Changes Required: Substantial edits are required. A new version that incorporates the requested changes is needed for another review.
Yellow – Approved with Changes: Edits are required, but once the edits are made, a new version does not need to be reviewed.
Green – Approved: The proof is approved by the reviewer as is and no changes are needed.
Stakeholders can add a decision on a proof version from the right-hand pane of the proof page. Once the decision is submitted, it will appear with the proof thumbnail on the campaign page and above the comment stream in the proof page. Decisions are tied to a version of a proof, so if you upload a new version, it will have its own decision status.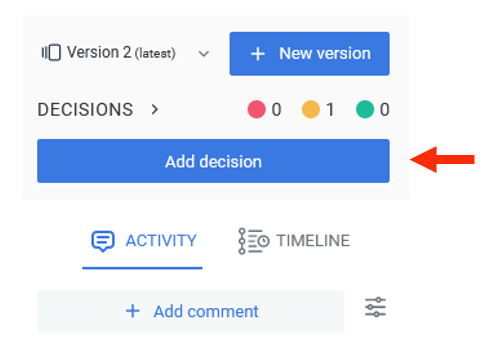 The proof decisions feature makes it easy and obvious for everyone to see the status of a proof version at any given moment in time. That means you'll be able to identify delays or problems and fix them before the entire campaign is in jeopardy of going out late or not at all.
How to Configure Email Notifications in ProofJump
Email notifications alert internal and external reviewers when an update, comment, decision, or any other review action has happened on a proof. Owners of campaigns and proofs can configure the notification settings for each stakeholder when inviting them to review as shown in the image below.
Keep in mind, reviewers have the ability to change their notification settings from the campaign page or the individual proof page. They can choose to receive:
No notifications
Notifications related to decisions only (e.g., a decision is made, a new proof is uploaded, a new version is uploaded), or
All notifications (e.g., all notifications related to decisions plus new annotations added and new comments added)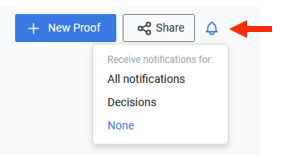 Of course, if a reviewer turns off notifications, they won't know when new updates are available or decisions are made. Therefore, to save time and keep the review process moving with minimal delays, every reviewer should configure this setting to receive all notifications.
Key Takeaways about How ProofJump Saves Time in Your Email Campaign Approval Process
Collaboration and transparent communications are essential for the email campaign review and approval process to run smoothly and without delays. The truth is you'll save a significant amount of time when you and your stakeholder reviewers know what each other is doing and when everyone has access to the right tools to do your jobs.
ProofJump was developed to help email marketers boost productivity and reduce review and approval process inefficiencies, so you can get more error-free email marketing campaigns to market faster.
Schedule a demo of to see how you can save time in your email review process using ProofJump.